When it comes to gardens, there's nothing quite like a gazebo to make a beautiful place even better.
Though they've been known to us by many names – summerhouses, kiosks, pavilions, pergolas, arbors, pagodas and more – gazebos have graced our world for millennia.
The earliest gazebos resembled towers on the roofs of houses; not only the coolest hangout in town, but the perfect place to catch an eagle eye view of all the neighbors.
Approximately 5,000 years ago, the Egyptians built some of the first ground based gazebos. They were constructed near a good water supply and used to grow produce via vines, trees and flowers.
Gazebos were made an integral part of outdoor landscaping by the Persians, who incorporated them into their magnificent flower gardens. Persian gazebos were havens of relaxation, but also doubled as work space where treaties were signed and dignitaries were welcomed.
Greeks built their gazebos for public use, often out of marble and near a temple. For Roman families, gardens and gazebos were staples of everyday life… especially among the rich who dwelt along the Mediterranean.
Wooden gazebos were constructed in the Orient. Solid construction and craftsmanship rendered many Chinese gazebos earthquake proof! In Japan, gazebos often hosted the culturally intricate, formal Tea Ceremonies.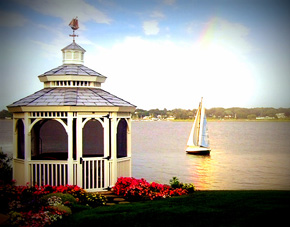 While gazebos found popularity in Europe during the Middle Ages – particularly at her many monasteries – they didn't garner much attention in the United States until the mid 1900's.
Gazebos of a variety of shapes and sizes have been gracing the landscapes of commercial and private properties across America ever since. They are common features of gardens and parks, and often host picnics, shelter hot tubs, and provide a central gathering place for family and community activities.
Gazebos are a place of shelter, a catalyst of fun and fellowship, and an upgrade to even the finest of gardens. A gazebo is a little piece of paradise. Why not make this paradise your own?
And there you have it; a gazebo history!  Check out our new design your own gazebo feature or order a do-it-yourself gazebo kit for this spring's project!