Buggies.  Bonnets.  Farming.  These aren't the only things the Amish are famous for!  They're also distinguished by their incredible home cooking and delicious recipes!
Though all Amish cooking has a distinct deliciousness, there are a number of dishes the Amish are particularly famous for.  We've listed a few below; check out more on our Amish Recipes Board on Pinterest!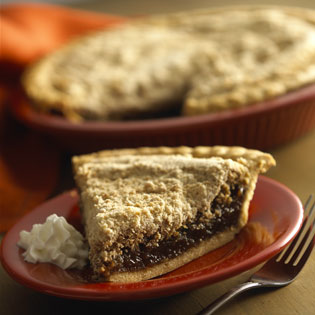 There's only one place to begin a discussion on popular Amish dishes.  Shoofly pie!  What could be more Amish than shoofly pie?  (And if you know the difference between a wet-bottom and a dry-bottom shoofly pie, you definitely grew up in Amish country!)
Though it originated in the British Isles, another popular Amish dish is the crowd pleasing shepherd's pie.  This casserole can be made with beef, lamb, or turkey, mixed with vegetables, and topped with mashed potatoes.  Cheese, tomatoes, corn, and baked beans may also be added to the recipe.  Yum!
Then there is the bread – any bread!  You haven't eaten bread until you've tasted some homemade in Amish Country!  Whether it's corn bread, white bread, cinnamon bread, dinner rolls, or buttermilk biscuits, after one bite, your taste-buds will never accept bread made anywhere else.
And last but not least, there's the famous Amish Country whoopie pie!  Though Maine and New Hampshire also claim to be the birthplace of the whoopie pie, the simple fact is that this delicious treat is an Amish tradition that originated in Pennsylvania's own Lancaster County.  (Lancaster even has an annual whoopie pie festival – the most delicious day in Lancaster!)  Available in a variety of sizes and flavors, whoopie pies are Amish Country's favorite treat, for residents and tourists alike!   Read more about whoopie pies on Lancaster County's website.
Have you tried Amish cooking?  What's your favorite Amish dish?  Let us know on Facebook or Twitter!